What kind of cement was used and you wish to remove
One part cement such as Contact Cement or Super Glues are dissolvable. Two-part Epoxies are not dissolvable and can be removed with heat or scraped / grinded down. In most cases, it is impossible to visually tell which type of cement it is. Using a sharp object, poke the old adhesive. If it is flexible, it is most likely not Epoxy and can be dissolved. If it is hard, it is most likely Epoxy or Super Glue.

---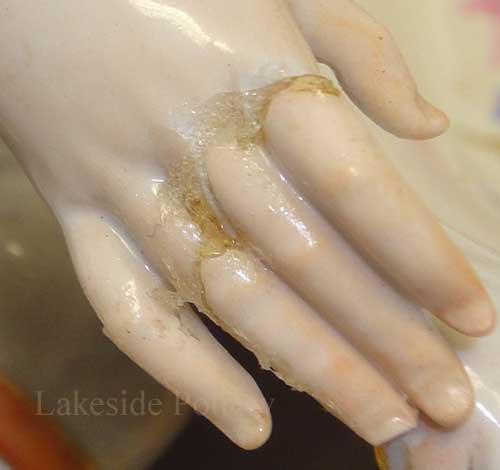 Recent job with adhesive that required removal (click to see it repaired)
---
How to Remove Old Adhesive From Ceramic or Pottery?
If it is Super Glue, it can be dissolved with Acetone (or nail polish remover). Before applying the Acetone make sure you do a small test on your ceramic object to verify that it will not ruin your item. Acetone will instantly damage any polymer based product (paint, varnish, plastic). If your test passed, apply the Acetone on the cemented area generously following all the safety instructions for using Acetone (e.g., ventilated area, use gloves and eye protection).
If it is not Super Glue or Epoxy, use solvent such as Paint Thinners, Alcohol or Goof Off. There are more hazards when using these-- pay careful attention to the safety precautions on the labels.
If it is Two part Epoxy, heat with a heat gun or boil in water. Again, run a small test to insure the repaired item will not be damaged by water or heat. When heating the ceramic in water, do not drop the item in boiling water to avoid cracks due to thermal shock. Place to ceramic object in room temperature water and start the heating with the object in the water. After it is boiled for 2-3 minute, inspect the object to see if the cemented parts are separated. If yes, use mittens to hold the hot item and with a razor blade, while hot, remove the remaining epoxy.
If the epoxy is no breaking down with boiling water or a heat gun, a high temperature epoxy was used which leaves you with two options: 1) Fire in a kiln to 500 - 600 degree F using a very slow temperature rise program although often additional damage occurs due to the high temperature and we stopped using high heat - just too risky. Or, 2) Grind off the high temperature epoxy using a high speed diamond burs. See common example below:
Using Dap, silicone adhesive made by Dow-Corning is nontoxic, its clear and strong and withstand boiling temperature or greater so why it is a bad idea in some cases?
​We had several items that came to us to implement proper seamless restoration where Dow-Corning Dap adhesive was used previously. It did hold well as long as long as hiding the repair lines is not required. It is not sandable or paintable. Therefore, separation of the broken pieces and removal of the silicon adhesive was required prior to proceeding with a seamless repair process. -- and here where the problem starts. To reverse the repair that was using Dap (or equivalent) often cost more than the repair it self. It can not be removed with solvents, or heat without risking destruction and the only safe remaining option is cutting and grinding. Grinding / cutting removes the silicone adhesives but it also removes some of vessel's material which effect the broken pieces fit requiring more fill, more sanding, more painting, thus, higher cost. Worst case scenario is when the silicone adhesive was used with porous material such as terracotta. The silicone adhesive soaks in the material porous surface and the full depth of penetration needs grinding further reducing fit, thus, increasing restoration cost. So, if the item you are repairing is valuable or important, be aware of the above.

Old Adhesive Removal Process - Example: